Shipping fragile goods can be exceptionally stressful in many cases. However, there are numerous methods and options available that could help you find the optimal solutions for your own shipping needs — and our experts will be on hand to help with this. And so, without further ado, we'll be considering some of the critical things you should know about shipping fragile goods, and how fragile stickers,fragile goods labels can be used to deliver the best possible results overall.
What are Fragile Stickers? 
Before we go any further, we should start by outlining what fragile stickers are and their role. Fragile stickers are excellent tools for shipping large, heavy, or damage-prone products, offering a clear and highly visible option to ensure delivery teams know to take care of your package.
Indeed, in many cases, delivery drivers won't know what the contents of your package are; as such, without a fragile sticker, they won't be able to tell how to handle the package. Fortunately, thanks to the prominent placing of fragile shipping and warning labels, and their bright and eye-catching colour scheme, it's far easier for delivery staff to recognise when a product needs extra-special handling — reducing the chance of damage.
Why are Fragile Shipping Stickers and Labels Important? 
Fragile sticking labels and stickers are massively important. After all, shipping fragile goods and belongings can be an understandably stressful experience. What's more, it only takes a few little bumps or knocks for your belonging to get damaged — which is why protecting your belongings from harm is integral. 
Luckily, fragile stickers and labels are highly effective for furniture and electronics. These simple, fragile labels can go a long way for your furniture and electronics, hopefully reducing the chances of damage in transit. 
Of course, the shipping process is often an incredibly fast-paced environment. With this in mind, it's not uncommon for workers within parcel handling facilities to sort through products quickly. And, for the majority of products, this wouldn't represent a serious concern. 
Indeed, most products are durable enough to withstand this, especially with good packaging. However, if your product is made with fragile materials, such as glass, thin plastic, and the like, it will be substantially more prone to getting damaged. In some cases, the reason for the fragile label may not even necessarily be the durability of the materials themselves, but simply the ease of the damage to the surface of materials. For example, many surfaces are prone to get scratched, especially if packaged with multiple items; as such, these may also be suitable for fragile labels.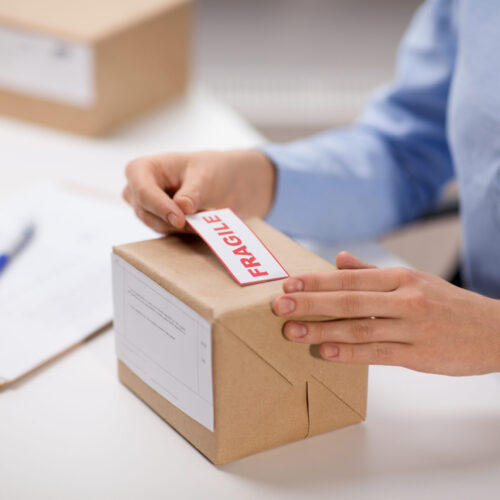 Don't Rely on Fragile Stickers Alone
A common mistake that many individuals and brands make is that they assume fragile shipping and warning labels are enough protection alone. However, while fragile stickers can ensure the packing staff handle the package with extra care, they can't protect against accidental damage — for example, if the delivery driver accidentally dropped the package.
As such, it's essential that you also package your parcels carefully to provide cushioning for the parcel. For example, your parcels should always be filled with air pockets, wool cushioning, styrofoam, bubble wrap, and the like to protect the product from accidental impacts. This, when coupled with fragile stickers, is undeniably the best way to ensure that your products or belongings are looked after to the best possible standard.
Why leave things to chance? Make the most of your packaging instead by coupling fragile labels with the most effective internal, impact-absorbing packaging, instead.
Packaging and Labels for Different Items
At this point, we've summarised the importance of effective packaging. But what if you're not quite sure about the ideal packaging for your particular product? Well, if this is something you've been feeling unsure of, the following guides may help. 
First, let's consider packaging for delicate, easy-to-break materials. Materials such as china, glass, thin plastics, and some metals may be prone to get smashed, chipped, or dented during transport. For these products, we recommend using fragile labels to ensure that delivery teams know to handle the parcel with care, which in turn may help ensure that the package arrives safely overall. However, you should also take care to be sure that the product is well packaged with cushioning materials that will help absorb the shock of any accidental impacts. 
What about products that are not scratch resistant? 
Well, non-scratch resistant products should still ideally be packaged when a fragile sticker, as this can go a long way toward ensuring that the team knows to handle the product carefully. This may help reduce the risk of the product getting caught and the surface dented. However, scratch-prone products should also be packaged inside individual boxes, wherever possible. This change helps prevent the item from coming into contact with other hard surfaces that could damage its finish. Finally, use plenty of packaging and fillers, such as styrofoam or bubble wrap, to cushion the product. 
Finally, for scratch-resistant and durable products, a well-packaged box alone should be enough. Products such as plastic goods or soft items usually won't be at risk of either scratches or damage during transit. As such, a fragile label will be unnecessary on these items. Strong packaging alone, with an air-pouch filling to prevent the item from jostling around inside the box, should be enough to keep these parcels in top condition.
Need Fragile Stickers? 
If you have been looking for ways to reduce the chance of your packages getting damaged, it's vital to start with fragile stickers. Indeed, understanding what fragile labels are and how they are used can go a long way towards ensuring that your packages arrive in the best possible condition.
After all, rough handling can be severely damaging for your packages during transit. However, with a little thought and care, and by making the best use of fragile labels for furniture and electronics, you can look after your belongings and increase the chances of things turning up in perfect condition.